DUANE HANSON (1925-1996)
The Supermarket Lady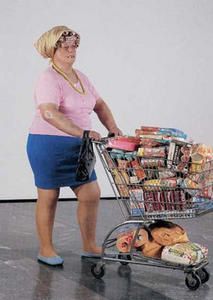 A superrealist American sculptor, Duane Hanson (1925-1996).
His technique : his sculptures are cast from human models and rendered in fiberglass, polyester or bronze. The skin is painted and the sculpture is finished with clothing , hair, jewelry and other accessories.
Let's have a look at Supermarket shopper, 1970
Describing
Who ? ....(Average American woman, overweight, in her curlers, smoking)
Where ? (store, supermarket...)
What ? (to shop, to market, to do one's shopping...)
Interpreting
Classify from the most to the least important statement.
Duane Hanson wanted to ...
-make us see the world as an illusion
-show an average young American woman
-denounce overconsumption, consumerism
-draw our attention on our world which is becoming more and more impersonal
-create a distance so that we can observe what we are and how we live
-remove the boundaries (frontiers) that separate art from life
-bring to life "invisible"ordinary people
-force our attention on the desolation, resignation and loneliness of ordinary lives
-criticize this woman who has no regard for her appearance
Conclusion
Like Pop Artists of the 1960s, Duane Hanson was interested in depicting the commonplace in uncommon ways. Although his realism was unflattering, his intention was to turn his subjects into art. Hanson's slice-of-life figures and their ordinary activities are frozen forever in their poses and activities.
Homework : What do you know about Pop Art ?